Tools Steel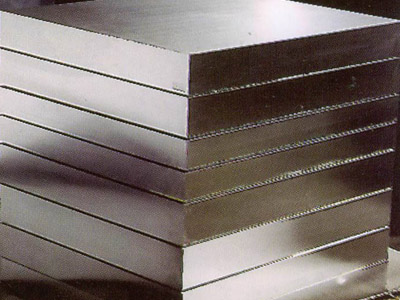 Tool steels are used to fabricate tooling exposed to stress that cannot always be defined precisely in the design phase. Tool steels include cold work tool steels, hot work tool steels and plastics mould steels.
Cold work tool steels are used for cutting and pressing tools, for dies and knives, for stamping and drawing tools, hobs, thread rolling tools and in many other applications due to their typical properties C high hardness, good toughness and compressive strength and high wear resistance.
Hot work tool steels are required in tools for forging, die casting and the extrusion of metals. It includes tool steels which adopt a constant temperature about 200°C during application.
They are helpful for the design of non cutting tools. They are used for die casting, continuous casting and die forging.
Plastic mould steels are used for making the molds and dies that are needed to manufacture plastic products. For the manufacture of plastic parts, steels are required which have a high wear resistance and good polishability, which can be easily machined, grained have adequate corrosion resistance. Depending on the properties required, case-hardening steels, heat treatable steels, corrosion resistant steels, nitriding steels and martensite hardening steels or high performance powder metallurgical materials are used. For Plastic Mold steel grades, these are delivered in pre-hardened condition with hardness ranging from 180HB to 400HB.
Dimensions:
Round bar: OD 3mm~1,200mm, Cold-drawing, Hot-rolled, Hot-forged.
Flat: Thickness 10~90mm X Width 60~550mm X Length 2,500~5,800mm.
Block: Thickness 100~800mm X Width 100~1,600mm X Length 500~5,800mm.
Sheet: Thickness 1.0~10mm X Width 700~1,000mm X Length 1,200~2,000mm.
Tool Steel
GB
JIS
DIN (W-Nr)
AISI/SAE
Cold Work Tool Steel
Cr12
SKD1
X210Cr12 (1.2080)
D3
Cr12MoV
X165CrMoV12 (1.2601)
Cr12Mo1V1
SKD11
X155CrVMo12-1 (1.2379)
D2
9Mn2V
90MnV8 (1.2842)
O2
MnCrWV
100MnCrW4 (1.2510)
O1
SKD2
X210CrW12 (1.2436)
D7
Cr8Mo1VSi
DC53
Hot Work Tool Steel
SCrNiMo
SKT4
55NiCrMoV6 (1.2713)
6F2
5CrNiMo
56NiCrMoV7 (1.2714)
5CrNi4Mo
X45NiCrMo4 (1.2767)
3Cr2W8V
SKD5
X30WCrV9-3 (1.2581)
H21
4Cr5MoVSi
SKD6
X38CrMoV51 (1.2343)
H11
SKD61
X40CrMoV51 (1.2344)
H13
Plastic Mould Steel
3Cr2Mo
HPM7
40CrMnMo7 (1.2311)
40CrMnMoS8-6 (1.2312)
3Cr2MnNiMo
HPM1
40CrMnNiMo8-6-4 (1.2738)
4Cr13
SUS420J2
X40Cr14 (1.2083)
10Ni3MnCuAl
NAK80
3Cr17Mo
X38CrMo16 (1.2316)